We Turn it into a Wetland
Treatment Wetlands of California
Bay Area Treatment Wetlands
In 1974, MVSD created Moorhen Marsh, the first wetlands on the west coast dependent solely on 1.2 million gallons of treated effluent as its primary water source. The 21-acre constructed wetland was created to avoid the costly construction of a deep-water outfall to transport MVSD's treated wastewater to the Carquinez Strait. The Marsh also functions in the treatment process by reducing ammonia as the effluent travels through the wetland.
Moorhen Marsh provides important open space in a heavily industrialized area, while also offering educational opportunities for over 1600 elementary, secondary, and college students every year. The Marsh creates critical habitat for native wildlife, including the western pond turtle, North American river otter, mink, North American beaver, and many species of birds including marsh wren, San Francisco common yellow-throat, Suisun song sparrow, green heron, snowy egret, and black-crowned night heron.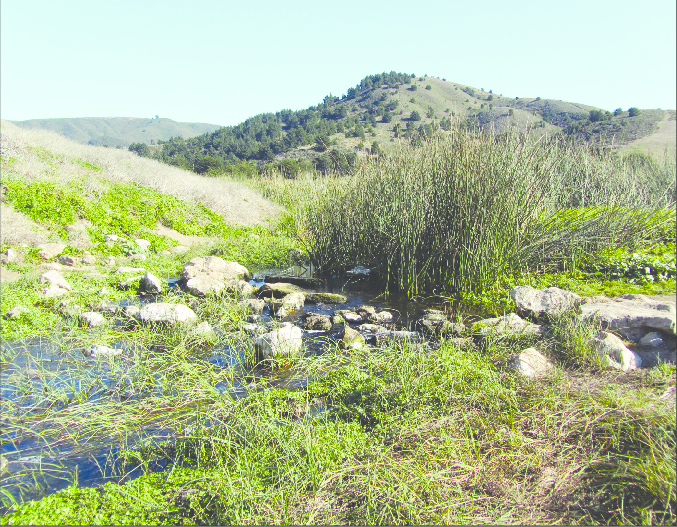 A constructed wetland initiated in 1995, 1.9 million gallons per day (MGD) flows through 30 acres of wetlands, riparian vegetation, and coastal scrub before reaching the Pacific Ocean.
Calera Creek Wetland Restoration and Wastewater Treatment Plant is a large site bounded by Mori Point Ridge on the northwest and north, an old railroad fill bank on the northeast, Pacific Coast Highway (Route 1) on the east and southeast, the Rockaway Beach district on the south, and the Pacific Ocean on the west.
The primary goal of the Calera Creek wetland restoration is to improve its riverine waters and wetland ecosystem functions. A secondary goal of the project is to create habitat for the threatened California Red-Legged Frog and the endangered San Francisco Garter Snake.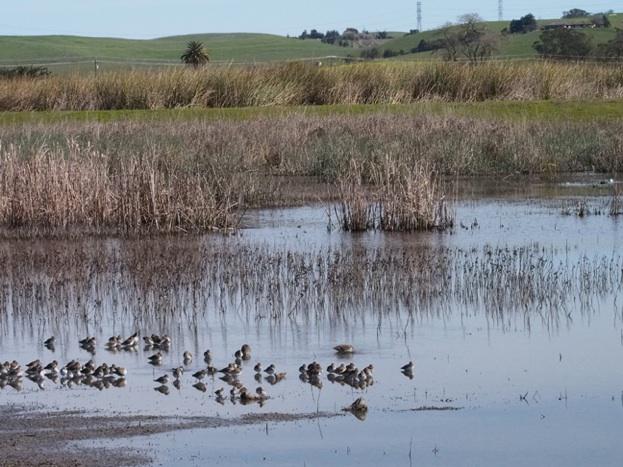 A 30-acre polishing wetland, divided into four ponds, was built at the Eillis Creek site. It includes a wildlife habitat and open-water bodies with public access.
The water is fed to oxidation ponds, or tertiary filters, which consist of eight ponds and an aerated lagoon. They support algae growth, enabling further degradation of organic matter. They also support wildlife such as swans, pelicans and Canada geese, and provide storage for recycled water.
The wetlands remove metals and add nutrients to the water. The water is then discharged into Petaluma River or used by the city. The project also has a 1.8 million gallon-capacity reservoir for the storage of treated potable water.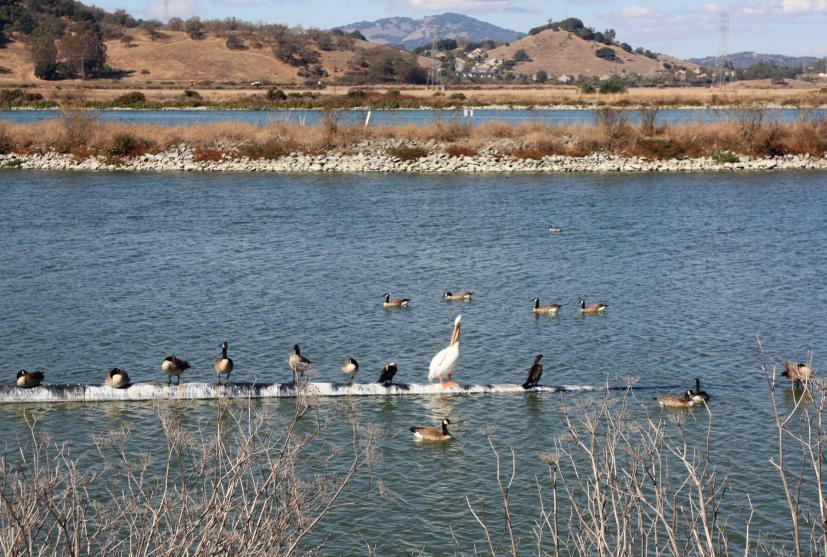 The Las Galinas Reclamation Area was built in 1985 on 385 acres of property acquired from the St. Vincent's School for Boys. The project includes a 20 acre wildlife marsh, 40 acres of storage ponds, a 10 acre saltwater marsh, 20 acres of irrigate landscaping and 200 acres of irrigated pasture.
From November through April, the highly treated recycled water is released to Miller Creek which leads to San Pablo Bay. In the dry season, from May through October, effluent cannot be discharged and is instead reused in one of several ways. Some is used to irrigate pasture land; some is stored in ponds to accelerate evaporation and for later discharge to Miller Creek; the remainder is taken by the Marin Municipal Water District for further treatment/distribution for landscape irrigation.
The salt water and freshwater marshes have attracted a great deal of wildlife including many migratory waterfowl. The Audubon Society has cataloged over 200 species of birds within the area. The walking paths are part of the 500-Mile Shoreline Trail Around the Bay in collaboration with the Bay Trail.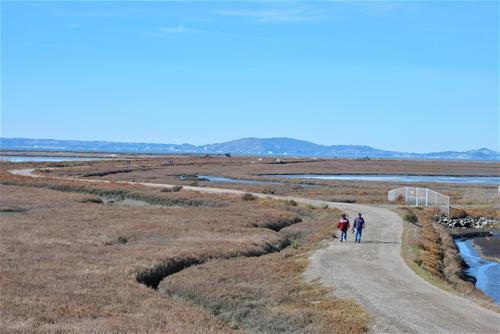 A portion of the Union Sanitary District's effluent is diverted to supply fresh water to the Hayward Marsh, a constructed wetland located just north of the San Mateo Bridge. Located just north of the San Mateo Bridge, the marsh consists of 145 acres of fresh and brackish wetland, with wide-ranging environmental benefits.
Before the marsh was restored from abandoned salt ponds, there was no wildlife habitat at the site. Now the marsh is a popular stop for migratory waterfowl and includes a preserve for the endangered Salt Marsh Harvest Mouse. High quality treated effluent supplied by Union Sanitary District is the fresh water source for this marsh ecosystem.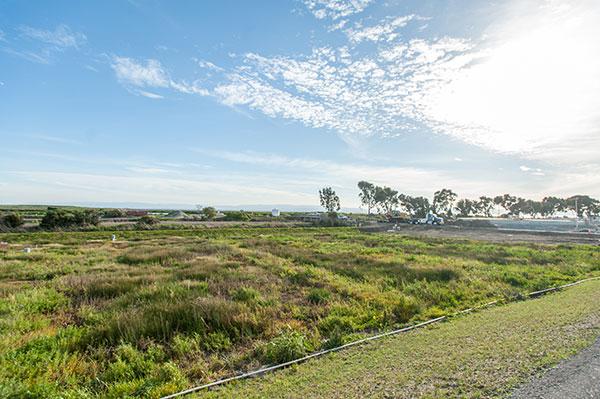 A Horizontal Levee is a re-imagining of how a levee looks and what it can do. Instead of a vertical wall to protect against storm surges, a horizontal levee uses vegetation on a slope to break waves. The ecosystems that live on horizontal levees can thrive while helping to further process waste water from treatment plants.
The Horizontal Levee is a regional solution to the problems of finding an affordable solution to flood risk from sea rise, water quality concerns in the San Francisco Bay, and providing key habitat on the Bay's edge.
Not Pictured
Renzel Marsh, Palo Alto. Since 1994 the Palo Alto Region Water Quality Control Plant has operated a long-term demonstration project involving discharges to Matadero Creek via Renzel Marsh.
Fairfield-Suisun SD, Fairfield. ~14 MGD of advanced secondary effluent is discharged to Boyton Slough, part of the larger Suisun Marsh complex.
Napa-Sonoma Marsh, Sonoma Valley County Sanitary District. Tertiary treated effluent discharges to Schell Slough, two managed wetlands and Napa-Sonoma Marsh.
Northern California Treatment Wetlands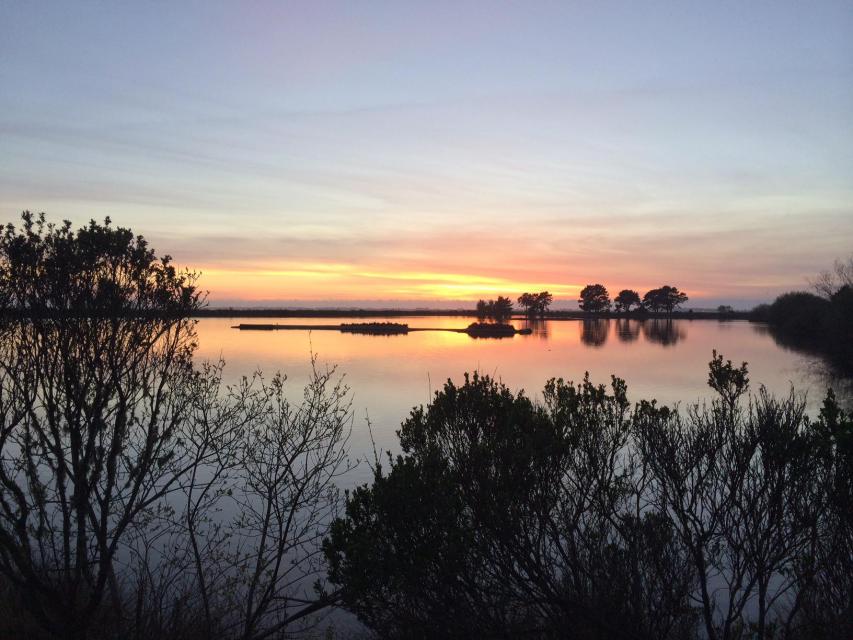 The Arcata Marsh and Wildlife Sanctuary is home to the City of Arcata's innovative wastewater treatment facility. The sanctuary is 307 acres, including freshwater marshes, salt marsh, tidal sloughs, grassy uplands, mudflats, brackish marsh, approximately 5 miles of walking and biking paths and an Interpretive Center. By integrating conventional wastewater treatment with the natural processes of constructed wetlands, Arcata has succeeded in turning wastewater into a resource.
Located at the north end of Humboldt Bay, the sanctuary is situated along the Pacific Flyway, a major migratory route for thousands of birds that breed in the far north and winter in California, Mexico and Central and South America. The Arcata Marsh and Wildlife Sanctuary has probably the highest bird populated coastal site between Bodega Harbor and Washington, with literally thousands of birding visitors annually and organized bird walks held at least weekly year-round. The Marsh has hosted over 300 bird species.
Delta Treatment Wetlands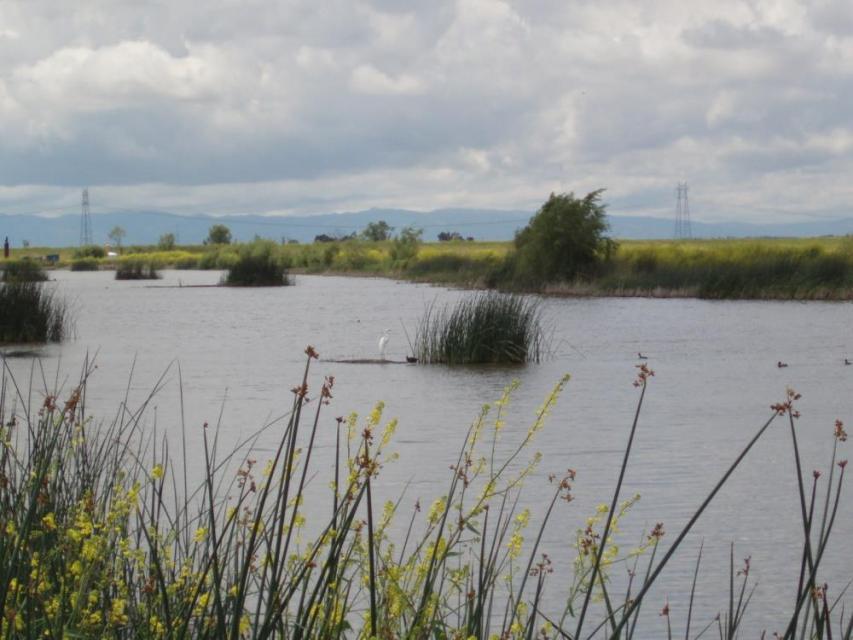 The 400 acre Davis Wetlands Project is part of a growing effort throughout the Central Valley to preserve and restore native habitats and the wildlife they support. The Wetlands is one of the City's most valuable open space resources. It utilizes reclaimed wastewater to provide wildlife habitat, recreation, and environmental learning opportunities.
Until the turn of the century, this area was seasonally flooded by the rise of the Sacramento River and its tributaries. Low lying parts of Yolo County surrounding Davis were marshlands most of the year, and were a key wintering location for countless waterfowl migrating along the Pacific Flyway, one of four major migratory routes for North American birds.
In the Central Valley, about 95% of the original wetland habitats were lost as levees were built for flood control and lands were converted to urban and agricultural uses. The Yolo Basin is considered a prime location for wetlands restoration because of it potential to recover some of the historical habitat and reestablish important wintering grounds for waterfowl and migratory birds.
Not Pictured
City of Stockton. An average flow of ~30 MGD is routed to 135 acres of ponds and surface wetlands for secondary treatment.
Southern California Treatment Wetlands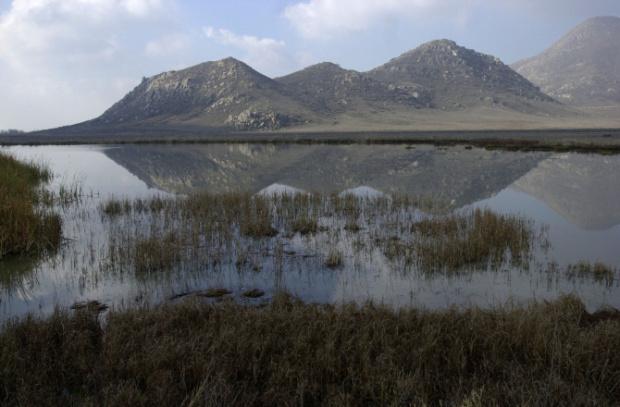 The constructed wetlands provide for additional treatment of tertiary treated wastewater from the San Jacinto Valley Regional Water Reclamation Facility. These wetlands are also a haven for nearly 120 species of migratory and resident waterfowl, shorebirds, neotropical song birds, and raptors.
Eastern Municipal Water District stores more than 12 million gallons of tertiary-treated recycled water in the permanent wetlands. This area provides a valuable asset to the community and supports the strategic plan goal to increase public acceptance of recycled water.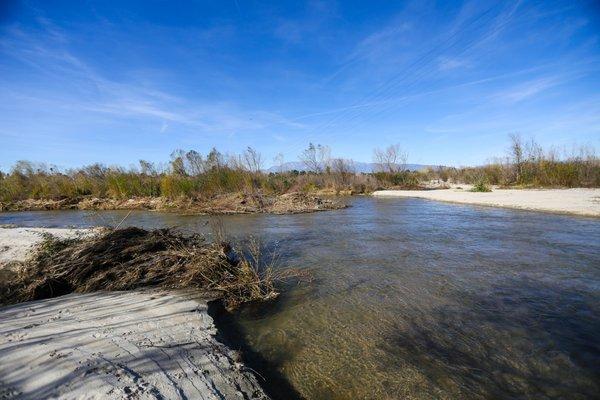 The City of Riverside provides nearly 14,000 acre-feet of recycled water each year to support the Hidden Valley Wildlife Area. Located along the Santa Ana River, the 1,500 acre site has 25 miles of hiking and equestrian trails, bluffs, and wetlands ponds.
The wildlife area provides habitat for a wide variety of resident, migrant, wintering, and breeding bird species, as well as reptiles, amphibians, and small mammals.
The city of Riverside is dedicated to this educational and recreational facility and to its riparian ecosystem.