Easements & Right-of-Way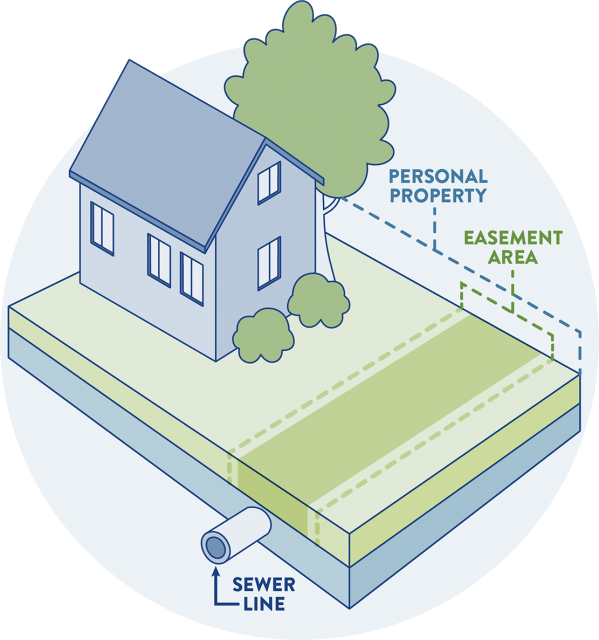 Over 500 miles of Central San's collection system are located in easements, and the remaining 1000 miles is mostly in public right-of-way, like the roads you drive on. Both easements and public right-of-way provide land-rights for Central San to operate and maintain your public sewer and recycled water facilities.
The property owner owns the land and all the improvements within the easement that are not owned by Central San; and is responsible for maintaining their land and (allowable) improvements.
Central San owns the sewer/recycled water line(s) and all necessary maintenance access structures and appurtenances. The easement rights enable Central San to construct, reconstruct, renew, alter, operate, maintain, inspect, repair, and replace its facilities as may be needed without excessive cost or other undue difficulty.
Mainline Easements
A property owner or developer seeking to install new public sewer or recycled water facilities to serve their properties must fund, design, construct and provide appropriate land-rights for the proposed public facilities in compliance with District Code and Standard Specifications (please see Section 9. Property Rights).
Wor​ding for Irrevocable Offers of Dedication on Subdivision Maps (Map Offers)
Template for Irrevocable Offers of Dedications by Separate Instrument (IOD)
Surveyor Checklist for IODs

Surveyor Exhibit B Plat Border

(Note: You may have to "right click" and "save link as…" for this document)
Right-of-Way
Central San reviews improvement plans to determine if there is any potential conflict with existing right-of-way and Central San easements on the property. The local building department typically requires Central San's review prior to their first review. The plans must accurately depict right-of-way and Central San's easements and the Applicant's existing and proposed improvements. Encroachments are not permissible in right-of-way or Central San easements. Furthermore, Central San does not maintain the surfaces of rights-of-way or easements. For example, Central San does not maintain roads, streets, trails, paths, slopes, fences, or vegetation, except when required to maintain and service Central San facilities.