Who We Are
Central San is a special district of the State of California. Special Districts are local public agencies formed by residents of a community to provide specific services.
Central San is a member of the California Special Districts Association (CSDA) and CSDA's local chapter, the Contra Costa Special Districts Association. To learn more visit: www.csda.net or https://contracostasda.specialdistrict.org/
Central San provides wastewater collection, treatment, and disposal services; recycled water production and distribution; and household hazardous waste collection. Central San serves nearly half a million residents and more than 3,000 businesses within a 145-square-mile service area, which includes Alamo, Danville, Lafayette, Moraga, Orinda, Pleasant Hill, Walnut Creek; portions of Martinez and San Ramon; and unincorporated communities within central Contra Costa County. Central San also cleans the wastewater from the cities of Concord and Clayton, and they maintain their collection systems.
Vision, Mission & Values
Established in 1946, Central San is a special enterprise district with a five-member elected Board of Directors.
Our Vision
To be an innovative industry leader in environmental stewardship and sustainability, while delivering exceptional service at responsible rates.
Our Mission
To protect public health and the environment.
Our Values
Our core values guide our daily decisions and how we fulfill our mission, vision, and goals.
CUSTOMER SERVICE
We are responsive to our customers, and we deliver on our commitment to provide safe, reliable, and cost-efficient services.
EMPLOYEES
We empower our employees to do their best work.
INTEGRITY
We hold ourselves accountable to a high standard of honesty, reliability, and transparency.
INNOVATION
We continuously improve and optimize our operations.
ENVIRONMENTAL SUSTAINABILITY
We conduct our business to safeguard and improve our planet.
DIVERSITY, EQUITY, AND INCLUSION
We value people of all backgrounds, cultures, and perspectives, and we are committed to the principles of equity and inclusion.
A Brief History
In the 1940s, central Contra Costa County was a rural area of farms, orchards and a few small towns. With the end of World War II, a building boom began. As the nearby cities of San Francisco, Oakland and Berkeley grew, so did the population of Contra Costa County.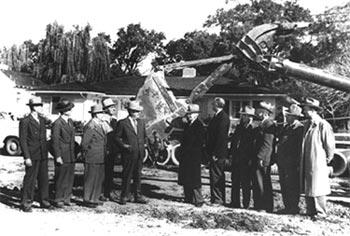 This ultimately resulted in a sanitation crisis with most of the county depending on septic systems, often inefficient due to the area's heavy adobe clay soil. At the time, State health authorities considered the polluted conditions arising from those septic tanks to be among the worst in California.
With septic tanks overflowing and waterborne diseases such as typhoid becoming a potential threat, civic leaders rallied public support for a solution. In an election held on June 24, 1946, a proposal to form a sanitary district for areas of central Contra Costa County was approved. On July 15, 1946, the County Board of Supervisors passed a resolution officially creating the Central Contra Costa Sanitary District (Central San).
Work began immediately and within 26 months, Central San's newly constructed main sewer trunk line and treatment plant were operational. At that time, Central San's service area population was 15,000; the treatment plant's capacity was 4.5 million gallons per day; and the collection system consisted of 50 miles of sewer pipe.
That original system was expected to handle the area's wastewater for at least two decades. But by 1952, it was obvious that demand would soon exceed capacity. Central San began a series of expansions and improvements to meet the needs of a rapidly growing population – activities that have continued throughout the District's history.
Enormous changes have occurred since the District's beginnings in 1946 as a small agency serving a rural area: the size, population, and characteristics of our service area; the processes and technologies used to treat and collect wastewater; the environmental awareness and stricter water quality standards and regulations. What hasn't changed is our unwavering dedication and commitment to protecting the public health and the environment.
Watch a visual profile of Central San!